News
NEWS:
Elizabeth Kelly is now back from a 6 week residency at Glazhuis in Lodden, Belgium. While there she made a cast glass brick sculpture which is now installed in the foyer of the town hall.
NEWS:
Congratulations to Blanche Tilden who is a finalist in the prestigious and competitive Tom Malone Glass Prize at the Art Gallery of Western Australia. The exhibition is on until 6 April. The Prize was established in 2003 as an annual event for Australian glass artists.
NEWS:
Congratulations to Robert Foster who was this week given the Alumni of the Year Award for Innovation and Entrepreneurship from the Australian National University at their Alumni Awards 2015.
NEWS: Collaboration is in the air at the moment, and ROBERT FOSTER will be exhibiting new works that are the outcome of a collaboration with Marie Hagerty at Karen Woodbury Gallery in Melbourne. Exhibition dates 4–28 March 2015.
NEWS: SFA artists in exhibitions open this week. Elizabeth Kelly is in Diplomacy: translations in glass curated by Ivana Jirasek for Canberra Glassworks. The exhibition invted glass artists to respond to glass traditions represented by diplomatic missions in Canberra. Kelly was paired with Finland. Diplomacy is on until 16 April. Blanche Tilden is in GLASS: art design architecture at the JamFactory until 18 April.
NEWS: SFA artists in exhibitions in Canberra
Robert Foster and Blanche Tilden are in an exhibition opening at Glassoworks this week. Glass X Design is curated by the newly appointed Artistic Director Magda Keaney (congratulations Magda!). The curator invited designers and glass artists to work in pairs joining intellect and skills to collaboratively produce a new product or suite of works.
Artists include: Nadege Desgenetez X Tom Skeehan, Kristel Britcher X Gilbert Riedelbauch, Lisa Cahill X Chris Hardy, Cobi Cockburn X Rob Foster, George Agius X Jason Bird, Ruth Allen X Dan Lorrimer/Mitchell Brooks, Blanche Tilden X Erin Hinton, and Kumiko Nakajima X John Quan.
The exhibition runs 15 November until 25 January 2015.
Robert Foster and F!NK & Co.

are in Sharing Light, 19 November @ 5-7pm, Baileys Arcade in the CBD (next door to Tosolini's). Sharing Light is an exhibition of leading local lighting designers/artist showcasing their work as part of the Design Canberra 2014 festival.
Elizabeth Kelly
has work in another Design Canberra Festival exhibition Creative Licence at Craft ACT, curated by Anne Radimin, until 13 December.
NEWS: Blanche Tilden at the Powerhouse
Blanche Tilden has work in A fine Possession at the Powerhouse Museum, Sydney until September 2015."A fine possession celebrates the central place of jewellery in our lives, from antiquity to the present-day, through a sumptuous selection of jewellery made, worn and collected in Australia." http://www.powerhousemuseum.com/exhibitions/jewellery/
Announcement of new Blanche Tilden exhibition
SFA Press will be publishing a 3rd edition of Blanche Tilden:true next month to coincide with her
forthcoming exhibition in Adelaide.
Blanche Tilden work in exhibition
Blanche had a work selected for the prestigious Mari Funaki Award for Contempary Jewllery, Funaki Gallery August 13, 2014 to September 13, 2014. The Award can be viewed at http://www.galleryfunaki.com.au/gf/exhibitions/mari-funaki-award-for-contemporary-jewellery
In other news, she has been awarded an Australia Council for the Arts grant for New Work, and a piece has been collected by the Musée des Arts Décoratifs, Paris. SFA Press will be publishing a 3rd edition of Blanche Tilden:true next month to coincide with an exhibition in Adelaide. Image:
BUREAUCRACY NECKLACE 2000 (DETAIL)
flameworked borosilicate glass, anodised aluminium
320mm diameter Photo: Jeremy Dillon
Collection: Musée des Arts Décoratifs, Paris, Donated by Diana Morgan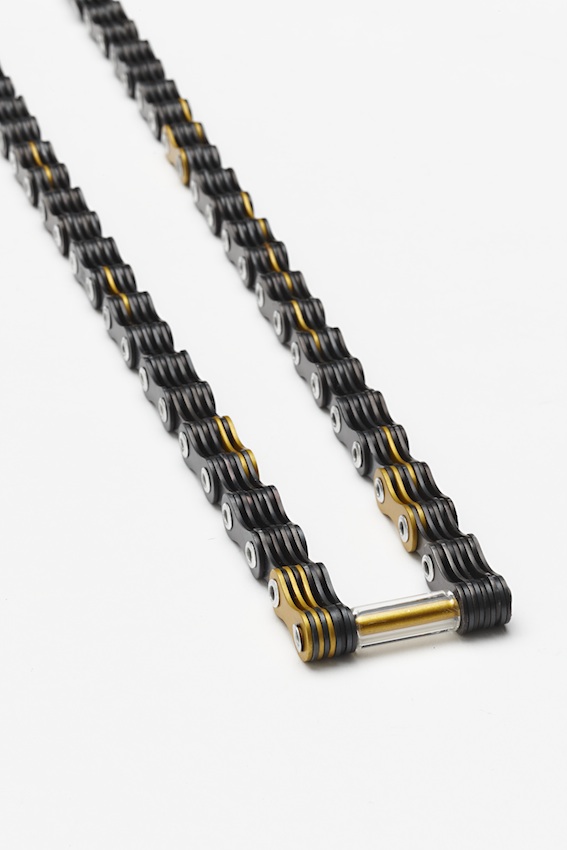 Elizabeth Kelly works on exhibition
Elizabeth was a finalist in the last Ranamok Glass Prize at Canberra Glassworks. She was also a finalist in the City of Hobart Art Prize at the Tasmanian Museum and Gallery which opened last week and is on view until 23 November. Another of her impressive tower pieces is in the exhibition Designing Craft/Crafting Design: 40 Years of JamFactory at the ANU School of Art Gallery until 1st November.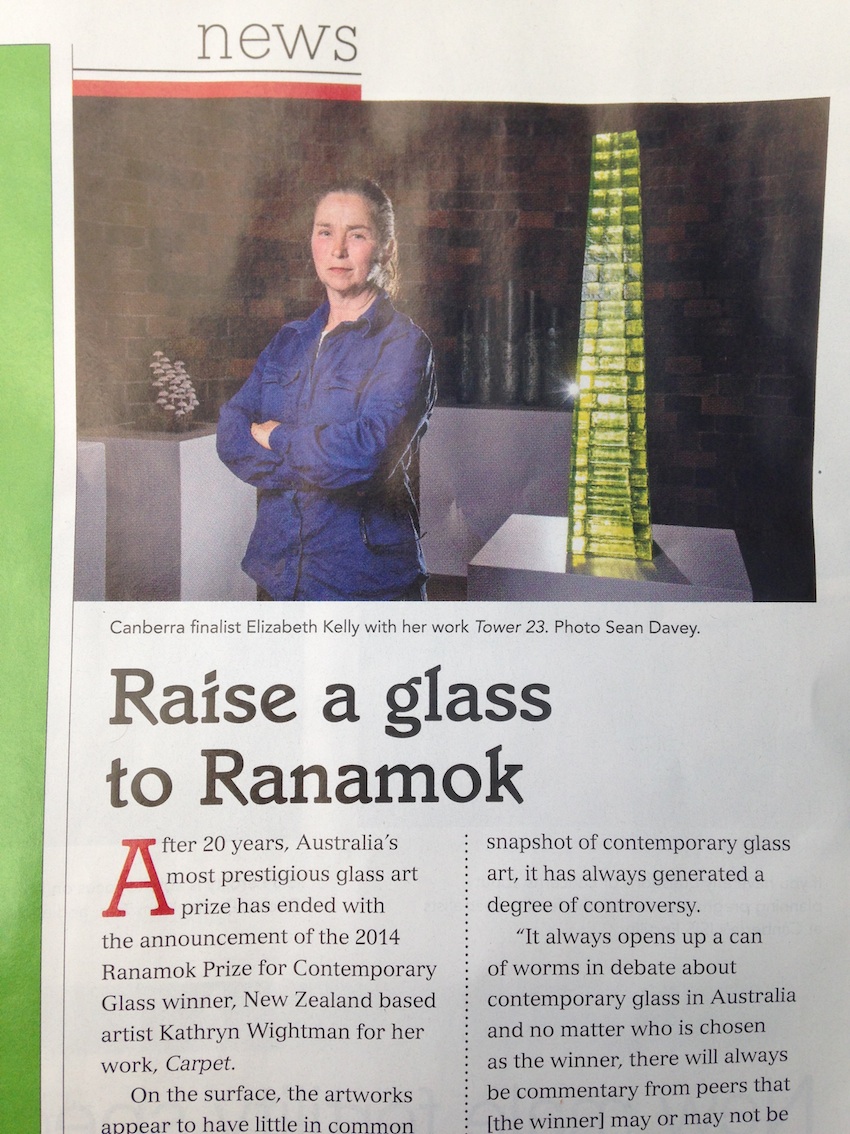 F!NK turns 20
A small business success story, F!NK celebrated 20 years with a great party last Thursday at POD, Lonsdale Street Traders, Canberra. As we arrived, each guest was given a 'jug'badge, and the lucky number won a special gold hanldled F!NK water jug. The badge is gorgeous too!
Several new F!NK products were launched at the event: check them out.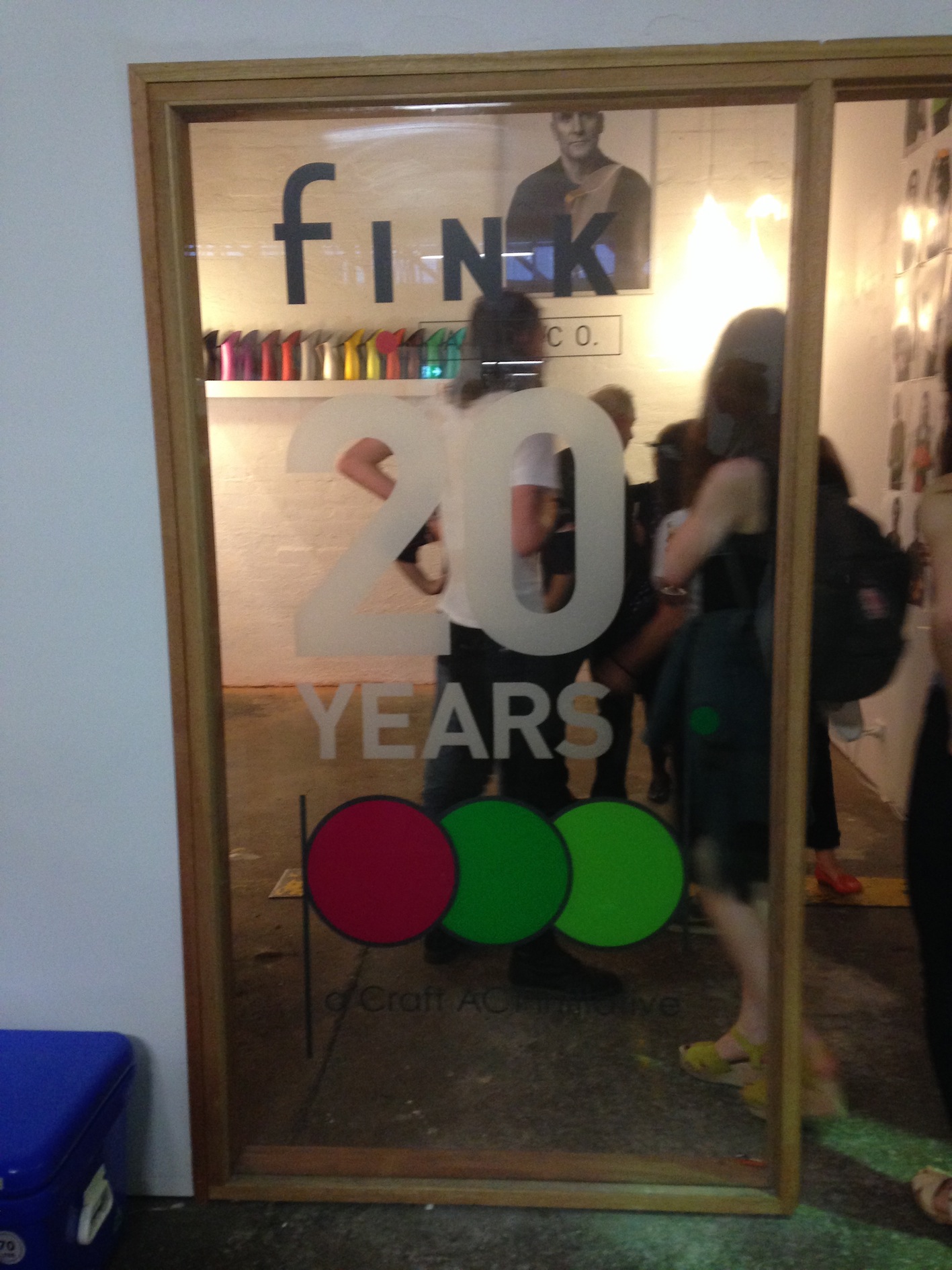 Melbourne NOW
Blanche Tilden is one of a select few jewellers to be included in the fabulous Melbourne NOW exhibition at the National Gallery of Victoria.
Her work can be seen on level 3 of the St Kilda Road site, and is also in the NGV show.
Blanche has reissued and repackaged her famous chain bracelets and rings for the occasion. The shop also has the 2nd edition of the monograph Blanche Tilden: true.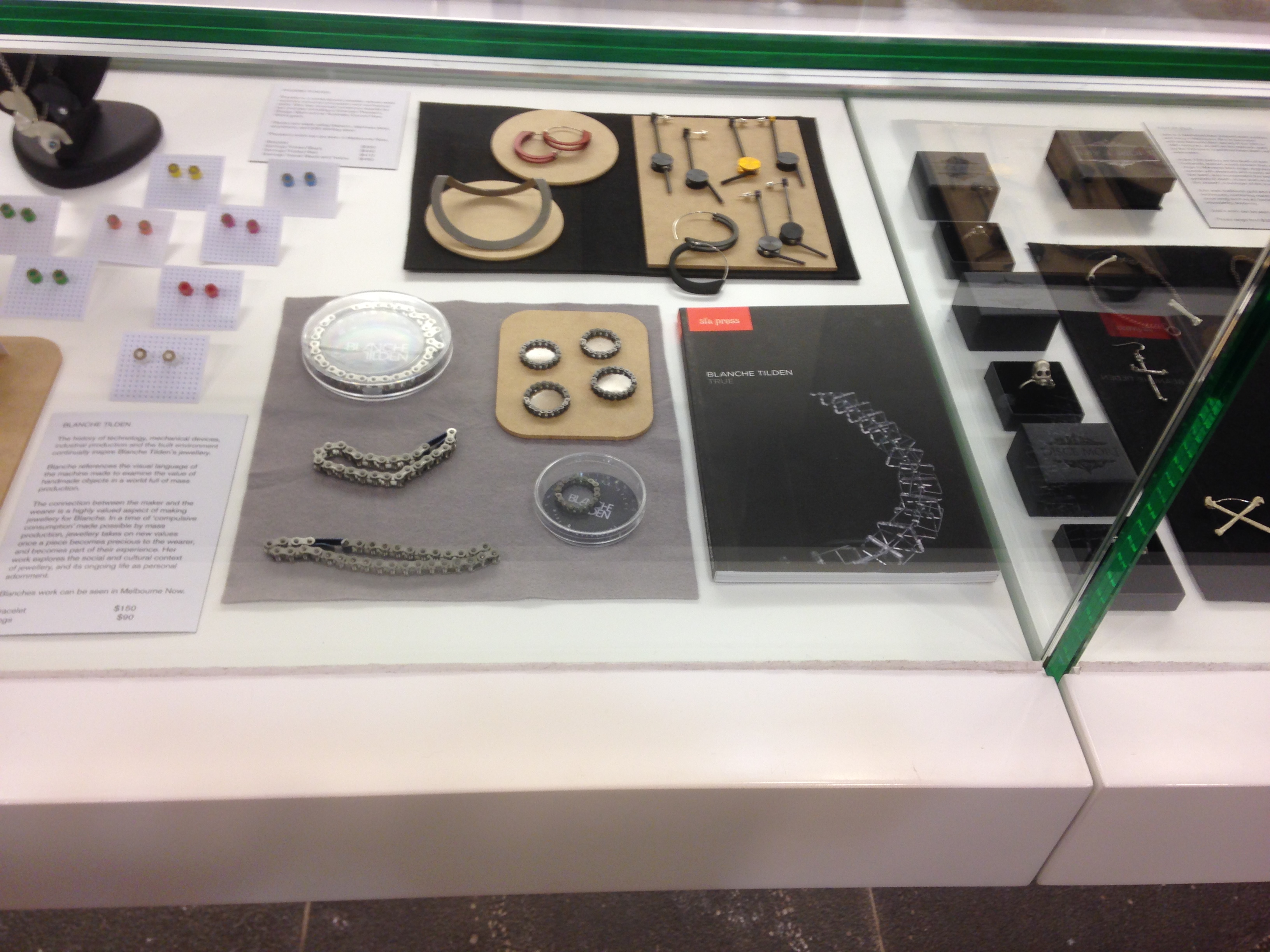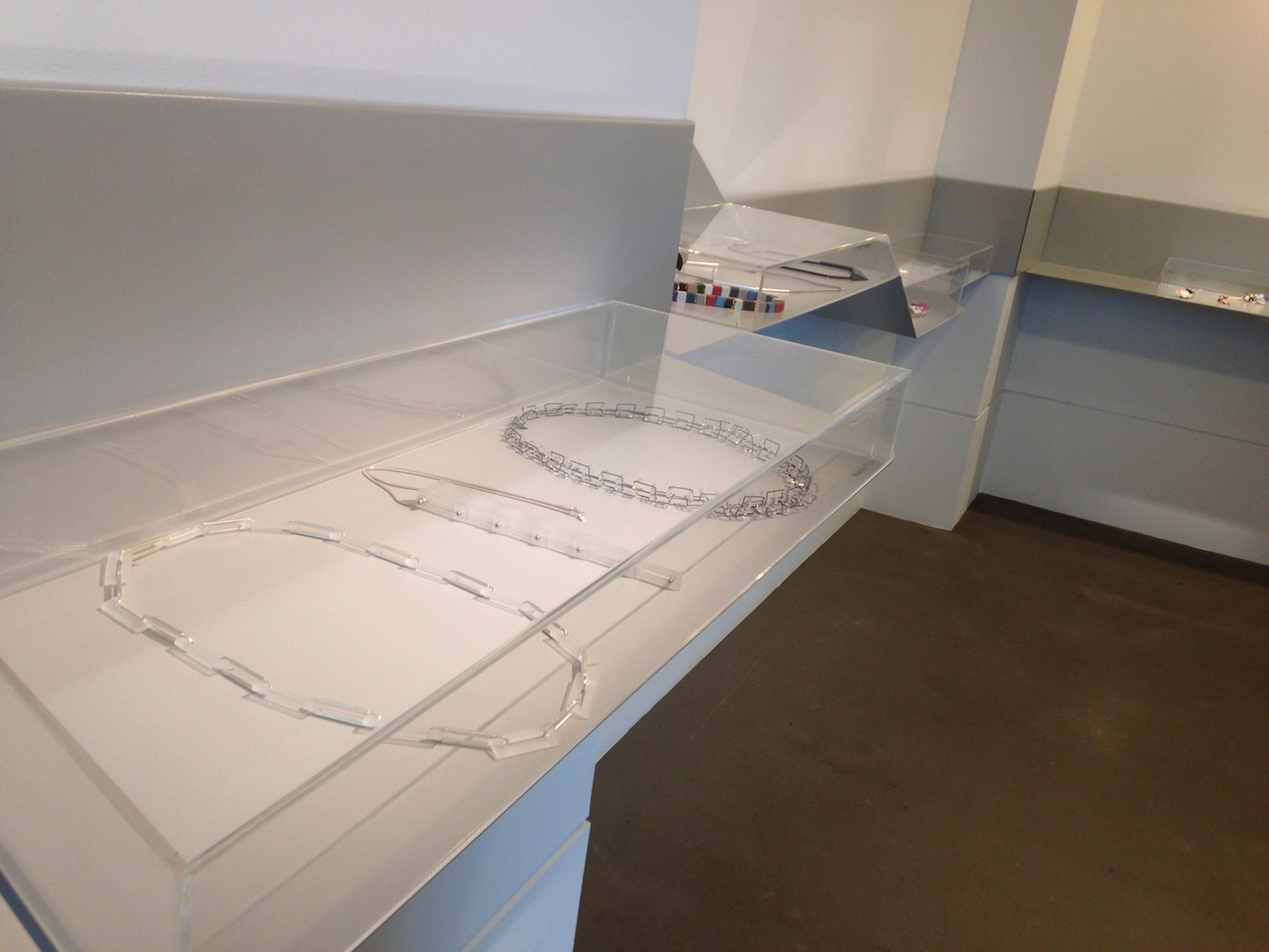 Proud to announce
Blanche Tilden has been awarded the prestigious 2013 Australian Craft Award for Jewellery (Victoria) for her beautiful work Empire Necklace. Congratulations Blanche!
Exhibition to catch
The work of Blanche Tilden and Robert Foster is included in this exciting touring exhibition: BODYWORK: Australian Jewellery 1972 – 2012
http://nga.gov.au/Bodywork/Default.cfm
A National Gallery of Australia exhibition, touring to ten Australian Regional Galleries from September 2013 – September 2015
Currently showing:
Glasshouse Gallery
Port Macquarie, NSW
22 Nov 2013 – 2 February 2014
American Glass Collectors
A group of glass collectors from the USA organised by Habatat Galleries visited Studio Tangerine and purchased significant cast glass works by Elizabeth Kelly. The 2-week tour took in galleries and studios in Sydney, Melbourne and Canberra.
SFA Press Book Launch: ALL WELCOME
Jorg Schmeisser: Bilder Der Reise (A Man Who Likes to Draw)
Canberra Museum and Gallery, Civic Square, Canberra, ACT
2–4pm Saturday 12 October 2013
Australian Galleries, 28 Derby Street, Collingwood, VIC
2-4pm Saturday 26 October 2013
April 20 2013
An exhibition of recent acquisitions for the Parliament House Art Collection was on view in the Presiding Officers' Gallery, Parliament House Canberra.
The show featured busts of Walter Burley Griffin and Marion Mahony Griffin by Clive Murray-White, purchased for the Parliament House Art Collection to mark the centenary of Canberra.
The following artists were included:
Nici Cumpston, Nicola Dickson, Julie Dowling, Bern Emmerichs, Fiona Foley, Neil Frazer, Shaun Gladwell, Sandra Hill, Reg Mombassa, Rod Moss, Clive Murray-White, Jimmy Thaiday, Judy Watson, Mick Wikilyiri and prints by Djambawa Marawili AM, Fiona Hall and Jorg Schmeisser for the Djalkiri Folio.
until 9 May
Blanche Tilden was showing work in
Ten Squared 10 Artists, 10 Decades, 100 Years of Glass
, an exhibition of new artworks inspired by glass, the material itself, its language and history in the period 1913–2013, enfolding those aspects into new expressions and new ideas. Curated by Clare Belfrage.
opening 24 April
Merryn Gates recently curated
Flipside
: the underbelly of Canberra. The exhibition will be opened at ANCA Gallery, Canberra 6pm, 24 April by Jean Madden, designer and founder of Street Swags. An illustrated article about the show will be published in the May edition of
Art Monthly
.
Now available
Standard Edition, lavishly illustrated hardback, published by SFA Press and distributed to good bookshops by Macmillan:Jorg Schmeisser: Bilder Der Reise (A Man Who Likes to Draw) AU$69.95