SFA Press Jörg Schmeisser: bilder der reise A
Jörg Schmeisser: bilder der reise A 2013
Deluxe Edition
24 x 24cm
Slip-cased / Hard Cover 160 pages
Full colour throughout with over 120 reproductions of works by Jörg Schmeisser
Editor: Merryn Gates Designer: Lynda Warner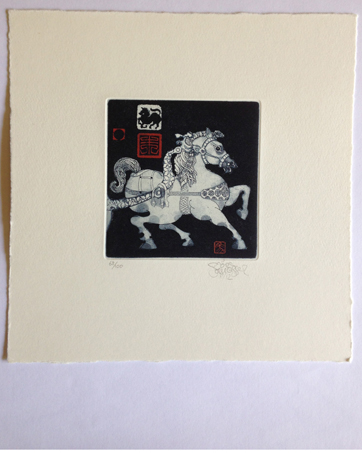 A: Small horse from China (1998 & 2012)
colour etching 10.6 x 10.2cm (image)
edition 100
Jörg Schmeisser: Bilder der Reise (a man, who likes to draw) is a very personal selection of works, chosen by this master printmaker himself as a 'journey' through his oeuvre. The book features a selection of important previously published essays together with new texts, and an illustrated timeline of the artist's life.
Texts by Eric Denker, Merryn Gates, Peter Haynes, Rüdiger Joppien, Hendrik Kolenberg, Suzanne Knight, Akira Kurosaki, Howard Morphy, Sarina Noordhuis-Fairfax, Paul Wunderlich and the artist himself.
Foreword by Roger Butler.